Las Vegas Car Accidents Lawyer
Car Wrecks
Las Vegas car accidents change the lives of everyone involved in the blink of an eye. Between horrific injuries and dealing with the medical and car insurances, the stress builds quickly.
Having an experienced Nevada car accidents attorney by your side can make all the difference. The Paul Powell Law Firm will work hard to make sure that every legal aspect of your car accident is covered.
The Paul Powell Law Firm Difference
One of the first things that needs to occur after a car accident is the seeking of medical treatment for any injuries. If you don't have a doctor of your own, our team can recommend doctors close to your home in numerous medical specialties. To our knowledge, the doctors we work with are the best physicians in the area.
Then, throughout your medical treatment, we will stay in constant contact with them. Taking this extra step helps ensure that as your legal team, we stay informed and on top of any bills and records necessary for building your case.
Why Work with a Las Vegas Car Accidents Lawyer?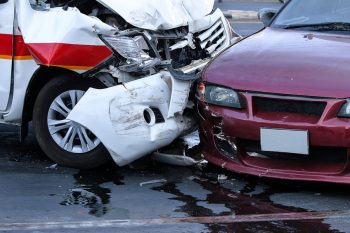 After treating your injuries, many other things will require your attention. However, when you contact us, we will help make the recovery process easier.
Following your car accident, our team will guide you through the legal and recovery processes and take over communications with insurers, authorities, and other relevant parties.
We will begin by gathering evidence to protect your rights. This step can include talking to police officers, taking photos of the vehicles, and interviewing witnesses/character witnesses who saw the accident or who can attest to your responsible driving.
Next, we'll assist with handling insurance companies to help ensure you are not taken advantage of. Insurance companies often aim to give a quick, minimal payout, and our legal team will help guard against that from happening.
Our Las Vegas car accidents lawyers are extremely savvy to the different methods an insurer may use to undermine your injury claim. We will use that knowledge and work hard to prepare a solid case that results in a fair compensation amount for you and your family members.
Injured in a vehicle crash? Contact us today to see what we can do for you.
Common Causes of Automotive Accidents
Accidents can have a wide variety of causes. Some of these include:
Distracted Driving. Unfortunately, with the development of smart phones and other electronic devices, accidents from distracted driving have increased. Texting especially has created more accidents, leading to several police campaigns encouraging drivers to leave the phone alone.
Driving under the influence. Driving under the influence remains a serious public safety hazard. With the legal limit at .08, drivers can find themselves inebriated faster than they expect. The Paul Powell Law Firm does not in any way advocate drinking and driving. Please do not drink and drive. Stay safe and make alternate plans if inebriated

.

Weather. From flash floods to snow fall, road conditions can affect drivers' reaction times.
Nothing can help your case more than working with a car accident lawyer, especially if you've been injured. Whether you were the driver or passenger of a private vehicle, a car accident attorney can help you build a case.
When to Seek Legal Help
As with any accident, time is of the essence. This is mainly because in the course of getting traffic flowing, evidence can be damaged or lost. That is why any good accident attorney will want to review the accident scene as soon as possible and inspect any vehicles involved.
For those who feel they might have done something – or failed to do something – that contributed to a car accident in which they were injured, it is still important to seek immediate attorney guidance. Many accidents are complex, so it's important to review what happened with a legal professional. This is especially true since you may still be entitled to some compensation for your injuries even if you contributed to the crash.
Contact The Paul Powell Law Firm Today
To obtain monetary compensation – called damages – there must be injury or expense caused by the accident. In Nevada, it must also be proven that another person was responsible.
Paul Powell has recovered total settlements approaching $250 million in the past 17 years. Many times, the settlements and judgments awarded to his clients have been valued over $1 million.
More importantly, at The Paul Powell Law Firm, we sincerely care about our clients and their rights. We are aggressive, experienced, and compassionate attorneys. We also provide clear advice at every step in the process.